Dr. Selden D. Bacon (1908-1992) was the first director of the Center of Alcohol Studies at Rutgers University, after the Center had to move from Yale University and it found a new home at Rutgers in 1962. While at Rutgers, Bacon garnered support for a specialized library (which was shut down in 2016), the Journal of Studies on Alcohol (now called the Journal of Studies on Alcohol and Drugs), and a publication program for the center.
---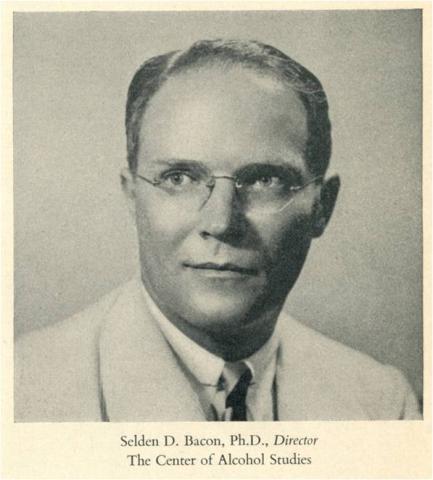 Biography
Born on September 10, 1909, Selden Daskam Bacon was the son of a prominent New York lawyer, Selden Bacon. His mother, Josephine Dodge Daskam Bacon, was the author of many novels and short stories. Being from a family with such a strong Yale "tradition," it is unsurprising that he chose to attend Yale University for his B.A., M.A., and Ph.D. His first two degrees were focused on criminology. But after earning his Masters in 1934, Bacon began to teach at Pennsylvania State University. He eventually returned to Yale in 1939 and earned his Ph.D. in Sociology.
This continued to be his primary field of focus until 1943 when he was asked by the Connecticut War Council to conduct a study on the jailed population which led him to his interest in alcohol and alcoholism. Bacon found the main reason for the imprisonment of this population was related to alcoholism and drunkenness in various degrees. He eventually published a work entitled "Drunkenness in Wartime Connecticut" with Roth in 1943. This research brought him in contact with Howard Haggard at the Yale Laboratory of Applied Physiology.
In the same year, Bacon released his first major publication in the field of alcohol studies. It originally began as a letter to fellow researcher, Jellinek, on the significant of sociology on the study of alcohol and remains one the most important works in the field today. Sociology and the problems of alcohol: Foundations for a sociologic study of drinking behavior was published in the Quarterly Journal of Studies on Alcohol in 1943.
Bacon soon became the natural "heir" to the Center of Alcohol Studies. He was well versed in the Yale "culture" having been educated and employed there. This diminished his contributions to the research field however; he continued to publish important works. Bacon's studies over the next twenty years were characterized by three important traits: his contribution to the conceptualization, facilitation, and interpretation of research, his supportive relationships with his colleagues who were actually carrying out the research, and his insistence that his colleagues have authorship over the publications. His selflessness and kindness launched the careers of many in the field.
His 1953 study with Robert Straus on drinking and college students was the first of its kind. It identified the distribution of drinking and problems and concluded that the majority of college drinking at the time fell into the non-problem use of alcohol. Eventually, however, Bacon was forced to move the center to Rutgers University in New Jersey. Pressure had grown in Yale against the Center which so publicly connected the university with the concept of alcoholism. While at Rutgers, Bacon garnered support for a specialized library (which is still in existence today), the Journal of Studies on Alcohol (known called the Journal of Studies on Alcohol and Drugs), and a publication program.
In 1975, Bacon was forced to retire from the Center by age restrictions imposed by the University. He continued teach until 1980 and continued publishing until his death in 1992. Bacon was succeeded by his wife, Margaret, his two sons, Mike and Sam, and his daughter, Ann.
---
Career Highlights 
Bacon's understanding of Yale culture helped him negotiate the relationship between the center and the university. In the end, however, he found that moving to a public university allowed him to publish more and continue teaching.
1909     Born September 10 in Pleasantville, N.Y.           
1931     Graduates with B.A. from Yale University           
1935     Graduates with M.A. in Government from Yale University           
1937     Joins Pennsylvania State College faculty as instructor of Sociology           
1939     Graduates with Ph.D. in Sociology from Yale University           
1939     Joins Yale University faculty as instructor of Sociology           
1943     Conducts study on jailed population for Connecticut War Council      
1943     Begins working with Yale's Section (later Center) of Alcohol Studies           
1950     Becomes director of Yale Section (later Center) of Alcohol Studies           
1951     Becomes director of Summer School of Alcohol Studies           
1962     Becomes director of the Center of Alcohol Studies at Rutgers; Joins Rutgers faculty           
1975     Retires from directorship at Rutgers; continues as a Professor of Sociology           
1980     Retires from Rutgers faculty but remains a strong presence in the field           
1992     Dies December 6 in Martha's Vineyard, MA
---
Selected Publications
---
Additional Resources
---
From the Digital Alcohol Studies Archives